Discover an inspiring mix of functional design, interesting textures, and bold colors in the new, full-color 2021 Tropitone catalog. As people are spending more time at home, it's the perfect opportunity to revisit and look at outdoor spaces in a whole new way. With Tropitone's wide selection of top-rated outdoor furniture, it's easy to refresh or completely transform your pool deck, patio or sunroom into a sanctuary where you and your family can work, play, and relax in style all year round. From dining sets to chat groups, lounges, motion pieces, and deep seating, Tropitone all-weather furniture is the smart choice to make the outdoors a beautiful, livable extension of your home that is built to last.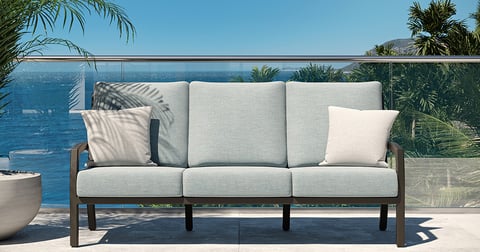 It's not hard to see why Muirlands has everyone talking. Its structured, transitional silhouette brings a fresh look that reflects today's simple design aesthetic. Sculpted with crisp edges and angles, the collection's cushion seating features a classic window pane back detail that blends seamlessly with any decor. Muirlands offers every type of seating option imaginable including cushion deep seating, sling, padded sling and woven—all with contoured armrests and ergonomic seat frames that deliver the ultimate in comfort.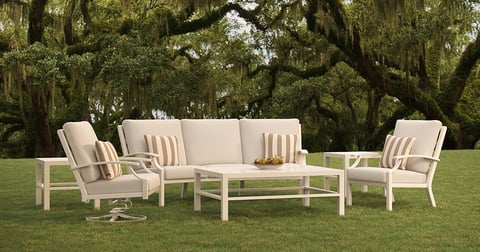 Versatility is a key ingredient for building livable outdoor spaces. Marconi has everything you need to personalize your deck, patio or poolside area with cushion, sling, padded sling or woven seating. It includes Tropitone's popular motion pieces—swivel rockers and lounges—that deliver pure relaxation when you need it most. Marconi's cushion group features a cast "double x" back detail that elevates its style quotient while holding cushions in place at the same time. This versatile collection makes your outdoor room anything but basic.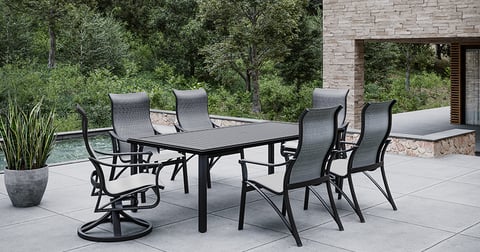 A standout with its distinctive, flowing curves, Corsica features small design details that infuse interest and style. Designed by Peter Homestead, its airy silhouette makes even the smallest spaces feel wide open. The collection is a complete mixture of cushion, sling, padded sling and woven pieces that make it effortless to customize any outdoor space. With durable aluminum frames powder-coated in any of Tropitone's colorful finishes and durable performance fabrics, Corsica offers endless design possibilities.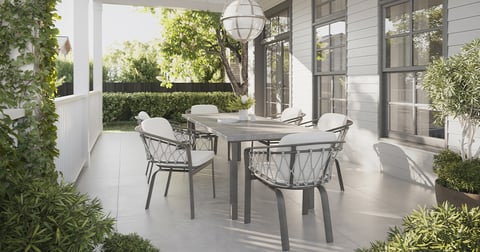 Trelon Rope is the newest generation of the popular Trelon Collection launched in 2019. Imagined and designed by John Caldwell, it shines a spotlight on the classic barrel chair in a casual way for the outdoors. Trelon Rope incorporates a textural rope detail in the curved arms and back for a creative twist. Its gently sloping arms, deep seat and inviting RELAXplus® cushions bring body-hugging comfort that is hard to resist.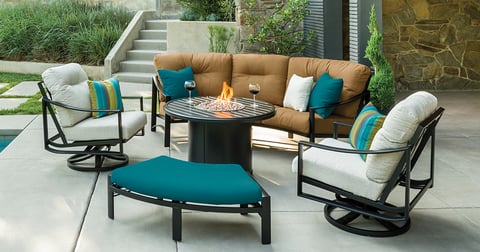 If you are drawn to the warmth of natural, textural design you'll want to check out the Tropitone Kenzo collection. Designed by Peter Homestead, Kenzo brings together the interest and beauty of mixed materials in a fun, creative way. Its wide, supportive frame combined with soft all-weather fabrics or TropiKane® creates the upmost comfort in the market. With a complete offering of cushion, woven, sling, and padded sling, Kenzo brings together function and fashion in your outdoor space.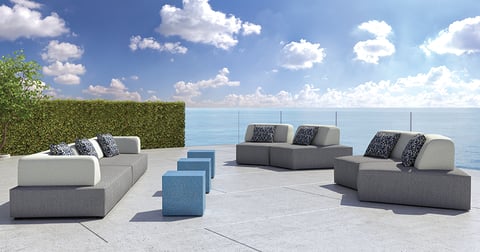 Tropitone FIT delivers cool style with limitless flexibility. The fully-upholstered outdoor modular group can be configured for any size or shape outdoor environments by adjusting the position of its three lounge seating pieces. It features weighted back cushions that can easily be re-positioned to create a myriad of seating options. Its modern, armless silhouette defies the ordinary, appealing to professional designers and lovers of innovative design. The lounge and back cushion fabric colors can be mixed and matched to create one-of-a-kind style.