What's the most comfortable outdoor seating? Comfort can be subjective depending on who, and how many people you ask. Comfort comes in a variety of shapes and sizes with different materials effecting the seating experience. Whether your idea of comfort is soft and cushy or firm and taut, Tropitone has narrowed down the most comfortable seating options available in the outdoor furniture market today. When it comes to designing the most desirable outdoor furniture, we recognize comfort is king!
Deep Seating & Cushion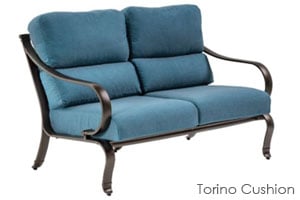 It's all in the name. Deep Seating can generally be defined as an extra thick cushion for bottom seating and backing. Deep Seating continues to rank as a favorite choice among outdoor furniture consumers because of its plush comfort and transitional look. Tropitone's deep seating collections offer the same level of comfort as your indoor seating, with the added protection of weather resistant fabrics.
Plush cushions are not limited to sofas and lounge chairs. Cushioned pieces are also available for outdoor dining chairs, chaise lounges and motion chairs; extending the same indoor comfort to the patio. Each Tropitone cushion collection features RELAXplus® delivering construction comparable to the functionality of indoor furniture but utilizing materials designed for the harsh elements of the outdoors.
Sling & Padded Sling
What is sling seating? In general, sling furniture does not use a cushion; rather a well tensioned fabric (sling) which provides a 'cushioning' effect. One of the main benefits of sling furniture is the ability for water to pass through the fabric, making slings a great choice for carefree outdoor living.
In addition to Sling, there's an option of a Padded Sling. The advantage of a Padded Sling is that it feels akin to a cushion without the maintenance. A padded sling is created from two layers of fabric with fiberfill placed between the layers – forming channels to create a built-in pad. Like a standard sling, a padded sling is easier to clean and dries faster than cushion furniture. People who gravitate toward a padded sling are not only seeking comfort, but practicality and versatility as well.
Strap & Cross Strap
Strap patio furniture has a nostalgic, universal appeal. The origin of strap furniture includes numerous single-horizontal 'straps' for support and comfort. Tropitone is credited with improving this design by introducing a double-wrapped strap for extra durability. The principle behind strap furniture is that each strap conforms to your body for specialized comfort. Strap chairs and lounges offer the additional benefit of large openings to enhance breath-ability, keeping you cooler and allowing water to pass easily through the slats. Strap furniture is often seen poolside, it needs little maintenance and remains a classic choice.
Cross-Strap furniture is similar to Strap furniture, but weaves-in vertical straps. Together, vertical and horizontal straps offer a firmer feel and create an organic look that is very unique.
URComfort System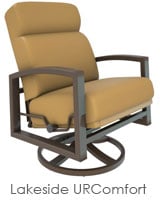 Exclusive to Tropitone, URComfort® seat adjustment system utilizes multiple pivot points to allow articulated movement of both back and seat. URComfort can be adapted to any body size and weight with a simple adjustment of a single knob on each side of the seat.
The multi-pivot point seat adjustment system allows the user to find the most comfortable position without getting out of the chair. The URComfort system naturally finds your center of gravity and distributes your weight evenly. URComfort seating is offered in a range of firmness from softer cushions featuring RELAXplus, to slings and padded slings.
Next month we will review two critical items – durability and craftsmanship, an essential combo for outdoor furniture to stand the test of time. In the meantime, browse the latest Tropitone Catalog and visit your local Tropitone dealer to test drive the various comfort options outlined above.