Have you ever been shopping for furniture and find a piece that is the exact style and size you were hoping to find, only to discover it doesn't come in any colors that coordinate with your décor? Or, maybe you found the ideal style in a color you like. But delivery will take two months and you're planning a family gathering in three weeks. Furniture shopping can be a frustrating experience.
Fortunately, that isn't a problem when you select Tropitone outdoor furniture. Tropitone furniture can be personalized and still be delivered in just over 3 weeks. With multiple designs, 20 finishes and over 400 outdoor fabrics, you are empowered by the possibilities.
Whether you are at the store on shopping online, the best place to start is to select the furniture collection you like. Furniture collections are designed to fit your personal style and coordinate with your home's architectural style. (To learn more about selecting the best outdoor furniture for your space, see last month's blog post: Your Outdoor Furniture Shopping Checklist.)
Once you select a collection, you can begin customizing your furniture with fabrics and finishes. In the stores, designers can assist you with fabric swatches and frame samples to create your dream outdoor space. Online, you can use Tropitone's interactive configurator or digital fabric swatch book and finish samples.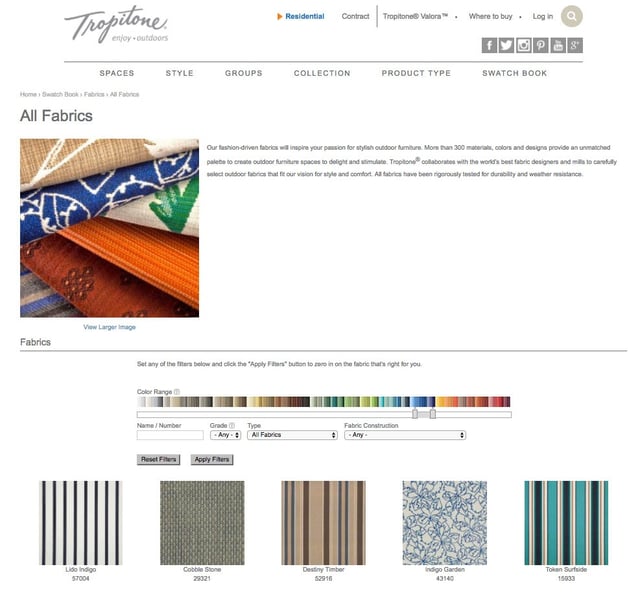 The easiest way to start to visualize your dream outdoor furniture is to use the Tropitone interactive configurator. On Tropitone's website, the configurator rendors the furniture piece of your choice in the finish, fabric, or weave you select. The finish is often selected first as a foundational color. Tropitone's powder-coated, aluminum furniture is offered in 20 different colors – from the whitest Snow to the deep darkness of Obsidian and everything in between. Take cues from your existing architectural and outdoor surroundings and mix and match fabrics and finishes until your vision is achieved.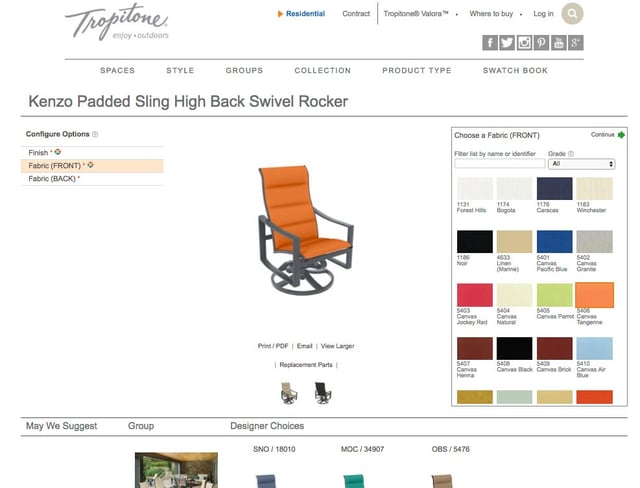 Enjoy clicking on almost endless variations and see how a piece of furniture you're considering will look in your preferred finish and fabric combinations. With Tropitone's interactive configurator, you'll get instant gratification and see immediately how dozens of colors and patterns will look on your chosen frame style and finish.
When it comes to tables, whether it's a little side table on which to rest a cool beverage, or a capacious dining table for eight, you can choose, not only the finish, but the table top material as well. Table tops can range from natural and faux stone, to beautiful, durable textured tops with sculpted edges.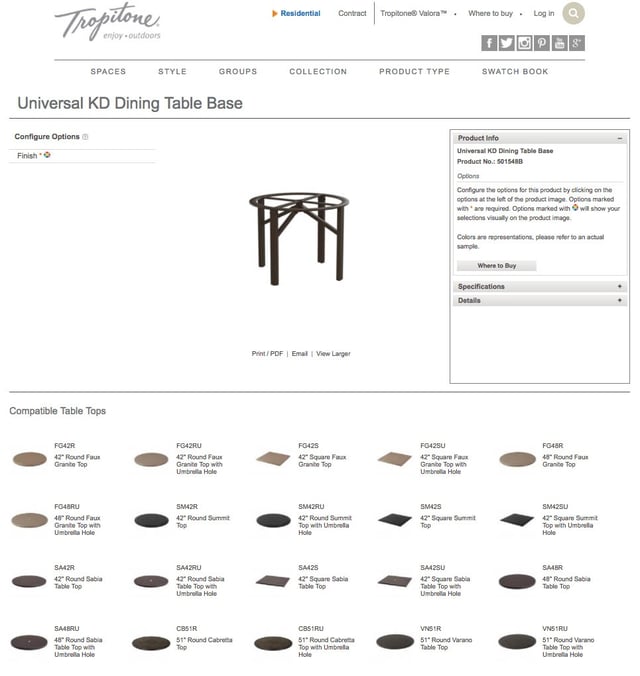 Once you have created your customized outdoor furniture, simply print your specifications and use the dealer locator to find a dealer near you. Then all you need to do is place your order and start sweeping the patio because your new Tropitone furniture will be arriving shortly.