Flickering flames, dancing shadows and the warm atmosphere created by fire pits make them a must have in most outdoor living spaces.
Summer is here at last! Long sunny days are spent outside on the patio enjoying time with friends and family. But what happens when the sun goes down and the night starts to chill?
There's no need to retreat indoors if you make fire part of your outdoor living experience. The best way to accomplish that is to include a Tropitone® Fire Pit in your outdoor space design.
Fire. It warms us. It provides soft variable lighting. Its dance inspires romance and introspection.
Fire can magically transform the outdoor chill and the mood. A boisterous outdoor family dinner can settle into old-fashioned story-telling when everyone gathers around a fire. Fire pits have the power to become the focal point and create a hypnotic atmosphere. When conversation wanes, the sounds of night accompany quiet musings.
Each Tropitone® Fire Pit features a warm flame surrounded by table tops in a variety of sizes, shapes and designs. Whether you want a subtle dancing light with minimal heat output or abundant light with significant heat radiation, Tropitone's fire pits offer the setting you need. Tropitone® Fire Pits can be turned up to 90,000 BTU'S, more than 30% warmer than any other outdoor fire pit currently available.
As with all Tropitone furnishings you can always find pieces to suit your taste. From the traditional style of Garden Terrace to the transitional Spectrum to contemporary Banchetto, you will certainly find a fire pit style that complements your furniture. Fire pit table top styles and your choice of base finish options truly provide an opportunity to create a unqiue fire pit.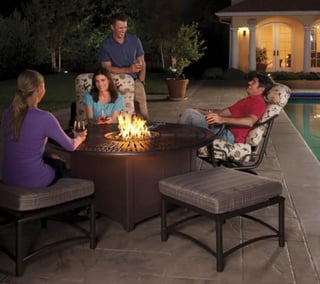 For added beauty with or without flame, Tropitone offers fire glass or pebble media in a range of colors. When the fire is lit, they enhance the ambiance by reflecting the flame's light. And when not in use, the colorful glass adds a bright spot to the tablescape.
And once you've determined your style and function, you can focus on how to incorporate your fire pit into your outdoor space. Position crescent shaped deep seating around your fire pit for intimate conversations, or create a more diverse dining experience with a fire pit utilizing a dining- or counter-height riser and padded sling dining chairs or counter stools respectively.
When you're not using fire, a convenient and elegantly designed Lazy Susan fire pit cover is available to expand the space of a round fire pit into an elegant full-top Tropitone table.
Tropitone also offers accessories that maximize fire pit safety. Glass wind guards will protect flames from gusts of wind. "Blow out boxes" insure the fuel line will automatically shut off if a gust of wind extinguishes the flame. Restarting your fire pit is easy, whether you choose Tropitone's built-in or manual ignition system. And, if you run out of fuel, the easy pull-out tank tray makes switching tanks fast and easy.
Outdoor fire pits are not just fun in the summer. As summer turns to fall, and then fall to winter, you will find many ways to appreciate your fire pit: sipping hot cider on a brisk autumn afternoon; warming your hands with a cup of cocoa as you toast your toes by the fire on a mild winter morning. So, gather around and enjoy the year-round memories and activities from your Tropitone® Fire Pit.