You've been telling yourself that come spring, you're finally going to create the outdoor room of your dreams. Well spring has sprung, and the warmer weather has inspired you, but where do you start? First, you will need outdoor furniture that is attractive, comfortable, durable and compliments your lifestyle. With so many choices it can be a little overwhelming. Therefore, we are breaking everything down for you in a 4-part series, starting with "Usage & Style" and ending with "Design Tips & Trends". (Kenzo Cushion collection above)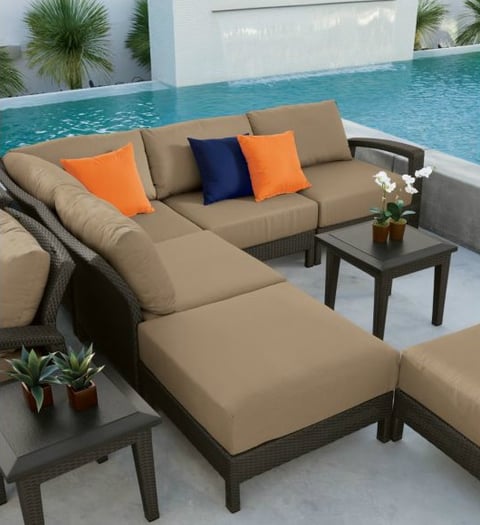 Usage: When purchasing outdoor furniture be sure to choose pieces that compliment your lifestyle. Whether you entertain often or simply desire a cozy place to read, your furniture should accommodate your activities and way of life.
If entertaining best describes your intended use, consider modular seating like the Evo Modular Woven (right). Modular seating can be easily configured in a variety of ways – from a spacious gathering spot that accommodates many guests to more intimate seating areas that allows for private conversations. Another option is a sectional sofa like the Brazo Woven with corresponding pieces and pillows in different colors for a dash of flair. Like modular seating, sectionals provide plenty of seating but typically have a more traditional look.
Perhaps you intend to use your outdoor room as an escape to meditate, read or spend time with someone special. Consider a deep-seated cushion sofa or love seat with a lounge chair and ottoman; the Torino Cushion collection is a best seller in this category . Also, be sure to add a table or two for functionality. Think beyond a coffee table and an end table. Perhaps include multiple accessory tables and a fire pit table for extra flare, don't limit yourself by conventional design.
Style: Your home's architecture, interior design, and outdoor surroundings are important when determining your style of furniture. While patio furniture is an extension of your lifestyle and personality, it should be synergistic with your home. For example, if you have a traditional home, an aged bronze finish or woven style enhance the classic appeal of the home.
If your home is more modern, consider collections like the Veer with sleek lines and smooth finishes; metallic and graphite finishes tend to embody a contemporary look. Also, don't limit yourself by a single collection, it's okay to mix it up a little. For example, add a chaise lounge to the edge of your patio; chaises aren't just for poolside and there's always an option that will compliment any style.
Lastly, fabrics influence the inherent look of furniture. Tropitone's fabrics come-in numerous colors, textures and patterns to compliment the furniture of your choice. Additionally, you can add throw pillows to make a colorful impact or change the tones for seasonality – this is where you can really show-off your personality and have fun!
Be on the lookout for next month's blog where we'll take a deep dive into "Comfort" and unpack the various materials and options that affect form and function. In the meantime, browse the latest Tropitone Catalog here and visit your local Tropitone dealer to see what will work best for your outdoor dream room.